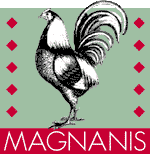 Magnani's Poultry
Serving Berkeley since 1917
Magnani's Poultry is well known for its high-quality organic, all-natural meats, olive oils, artesian vinegars, and deli foods.
Magnani's Poultry has an in-house butcher who cuts the meat to customer specifications. We even provide marrow bones and organ meats. It's our old-fashioned, home-town service and excellent products that bring our customers back time and time again.
Magnani's was founded in 1917 by Albert Magnani and became famous for its fresh chickens, turkeys and other poultry products. We moved into our location on Hopkins Street in Berkeley in 2003.